Dyneema offers great resistance to cutting
Dyneema is a highly advanced fiber based on a polyethylene with an ultra high molecular weight. It is a fiber 15 times stronger than steel, which allows to create fabrics with a high resistance to cutting.
On the other hand, fabrics made with Dyneema are much lighter than those of the competition.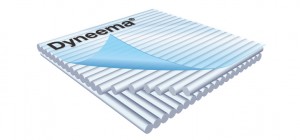 Dyneema multifilament gel yarn is made of high molecular weight polyethylene that provides great resistance to the fabric.
On the other hand, Dyneema fibers are placed with a criss-cross orientation (0.90º), that is, some intersect with each other to provide energy absorption.
The result is a lightweight, low profile and flexible material that distributes the impact throughout the fiber faster than conventional.
The fabrics made with Dyneema can be used for the EPI sector, such as t-shirts, pants and gloves resistant to cut or bulletproof vests.